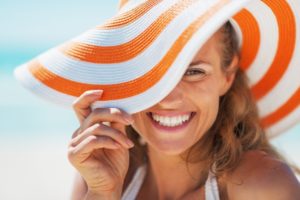 The sun is shining, the weather is warming up, and it's finally time to kick back and enjoy summer! While the relaxing months ahead are an excellent time to enjoy all your favorite seasonal foods and activities, it can be tough on your oral health. If you don't take a few extra precautions, your fun in the sun could be cut short by an uncomfortable cavity or broken tooth. Use these five practical tips from your Tysons, VA dentist to keep your smile happy and healthy all summer long!
Tip #1: Don't Forget to Brush
Whether you're planning on spending your summer vacation going on adventures or relaxing at home, it's essential that you keep up your daily dental routine. This simple habit may be easy to forget or put off, but it plays a key role in preventing nearly every oral health issue. Take the time to brush your teeth for two minutes twice a day and floss between all your teeth daily.
Tip #2: Safely Enjoy Summer Activities
Thanks to the inviting warm weather, many of us will be heading to the pool, the skating rink, or the park. If you choose to engage in high-contact sports, always remember to protect your teeth with a custom sports mouthguard. While you're at the pool, never run on wet or slippery surfaces or jump into shallow waters. Always be aware of how close you are to the concrete lip of the pool.
Tip #3: Choose Healthy, Smile-Friendly Snacks
With all the ice cream, sodas, and other sugary snacks, summertime cavities can be a real problem. Instead of constantly including in these unhealthy foods, boost your oral health with a few delicious smile-friendly snacks! Foods that contain calcium and phosphorus like canned salmon, cheese, turkey, yogurt, and almonds can help strengthen your teeth and jaw. Great sources of vitamin C like oranges, broccoli, cantaloupe, and strawberries promote healthy gum tissue and keep gum disease at bay.
Tip #4: Stay Hydrated the Right Way
Staying hydrated is important all year long, but it's especially crucial during summertime. Beverages like sports drinks, fruit juice, and soda all contain high amounts of sugar and acid, which drastically increases your risk of cavities. Stay hydrated safely by drinking plenty of plain water. As an added bonus, most tap water is fortified with fluoride, which is the same mineral in toothpaste that helps fight off tooth decay.
Tip #5: Take the Time to Visit Your Dentist
It may not be the first item on your summer to-do list, but now is the perfect time to get a biannual dental checkup. You're likely to have a lot more availability to schedule a visit to your dentist this time of year. The main goal of routine checkups is to prevent issues from developing, so your dentist can help spot and stop small problems before they cause damage or discomfort while you're away on vacation.
Don't let your oral health fall by the wayside this summer. Use these five simple yet effective tips to keep your smile sunny throughout the season.
About the Practice
The highly experienced team of Dent-Plant Dental Implant Center is committed to helping patients in Tysons, VA and the surrounding communities fully enjoy life with a complete smile. They are proud to offer high quality dental implants as a permanent solution to missing teeth. With state-of-the-art technology and the latest dental techniques, they can rebuild your beautiful, healthy, and functional smile. If you'd like more tips for keeping your oral health on track this summer, feel free to contact them via their website or at (571) 352-9006.