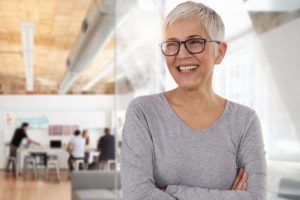 Do you want a tooth replacement solution that will have you seeing results in less time? Do you want something permanent that doesn't require nighttime soaking or frequent dental visits for relining or adjusting? Do you want a smile that is designed to last a lifetime? If you answered "yes" to all these questions, it may be time to consider a new and innovative solution known as Teeth In a Day. Is it possible to achieve a fully restored smile in just one day, especially when replacing a full row of teeth? Spend some time learning about this unique restorative solution and whether it is the right option for you.
What Is Teeth In a Day?
Considered to be a form of dental implant surgery, Teeth In a Day makes it possible to achieve a stable, functional smile in just one dental visit. Unlike traditional implant placement that requires several months of healing at home before receiving your final restoration, this alternative system allows you to receive your dental implants before having a temporary restoration put into place for immediate use.
How Does the Process Work?
The entire process requires four separate appointments. During your first visit, our team will use a CT Cone Beam scanner to capture high-resolution images of your oral structure. After taking impressions of your teeth, they will send them off to the lab to begin creating your temporary denture. Your doctor will also spend time reviewing the scans to determine where your implants should be placed.
When arriving for the second appointment, you will undergo the actual implant placement process. Normally, it takes between 5-6 implants to be placed along the jawbone to create a stable foundation for your restoration. Once the implants are in place, your doctor will secure the temporary acrylic teeth (i.e. hybrid) to your implants.
The third appointment will occur three months after placement and require an additional set of impressions. If there are any changes you want, this is the time to express them to your doctor. Once the color, size, and shape of your restoration are determined, the impressions will be resent to the lab where your custom, finalized restoration will be created. It is during your fourth and final appointment that you will have your temporary denture removed and replaced with your final hybrid.
How Long Will Results Last?
Unlike traditional dentures that may only last 7 or 8 years, your Teeth In a Day can last decades or more, making them a much more cost-effective solution. This is because your customized teeth are anchored by dental implants, which are surgically placed into your jawbone. Offering greater stability, functionality, and support, you can enjoy a longer, healthier smile.
If you're interested in learning more about the benefits of dental implants and Teeth In a Day, contact your dentist to find out how you can get started on the path to a longer-lasting, more beautiful smile.
About the Practice
Dent-Plant Dental Implant Center's highly-skilled team of dental specialists can restore your smile using state-of-the-art technology. Want a fully restored smile in less time? Let us employ Teeth In a Day, so you can get back to enjoying your life. With this new and innovative method of tooth replacement, you can see a complete smile on the very same day as your implant placement! To find out if this restorative solution is right for you, contact us via our website or by calling (571) 352-9006.