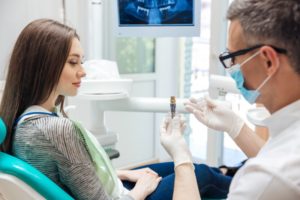 Of all the available restorative dentistry options to replace missing teeth, it is no secret that dental implants are a more costly venture. From possible pre-treatment and materials used to the surgical placement and custom restoration, they all factor into the full amount. But will the cost of dental implants in Tysons have you emptying your wallet? Hear from a local dental professional who explains why your procedure is unlikely to cost the same as someone else and why it may be a more reasonable option than you think.
Calculating Cost: What Factors Are Included?
The first thing you should know about any type of dental procedure is that every patient is different. When it comes to dental implants, you may pay more or less than someone else. The reason for this is that this type of restorative dentistry is extremely versatile and can replace one, multiple, or all your missing teeth. So, if your colleague used them to replace their entire bottom arch of teeth but you only need to replace one missing tooth, your cost will be significantly less.
During your initial consultation with your dentist, they will perform a thorough examination of your oral cavity. Based on their findings, treatment costs can vary. Some of the factors that are considered when creating a complete estimate include:
Any pre-treatment dental work (i.e. tooth extraction or bone graft or sinus lift to create a stable foundation for implants)
Materials used
The number of implants you will need to have placed and their location
Custom restoration (i.e. dental crown, implant bridge, or implant-retained dentures)
Anesthesia/Sedation
Will Dental Insurance Cover Implant Placement?
It is highly unlikely that your dental insurance carrier will cover your implant placement; however, this is not always the case. As this type of restorative treatment becomes more popular, and as dentists continue to stress the importance of them being used out of necessity instead of preference, more and more companies are slowly beginning to consider coverage.
However, even if your insurer still refuses to cover your surgical placement, they may be able to cover other aspects of your treatment, including:
Anesthesia/sedation
Custom restoration
Pre-treatment dental work
Why Dental Implants in Tysons Are a More Cost-Effective Option
When choosing how you want to replace your missing teeth, it's normal to consider other, more affordable options, but what you may not realize is that these alternative solutions might actually cost more in the long run. Dental implants are known for their longevity, which is one of the reasons they are considered to be more cost-effective. Unlike dentures and fixed bridges that require replacements after 10 years or more, implants are designed to last a lifetime with proper care and maintenance. While the restoration may need to be replaced over time, the implant can remain in place.
Just because implants cost more upfront doesn't mean they shouldn't be considered as a possible option for treatment. Your dental team will be happy to work with you to determine ways in which you can finance your new smile without depleting your bank account.
About the Practice
At Dent-Plant Dental Implant Center, we know the importance of maintaining a beautiful smile. Our skilled and experienced team of dental specialists want to ensure your implants give you not only a smile you can be proud of but one that is fully restored and healthy for years to come. Because we know the cost can be a bit daunting to most patients, we are currently offering a special of $161 per month for dental implants. To learn more, contact us via our website or by calling (571) 352-9006.