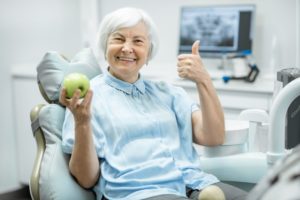 When it comes to tooth replacement, there are many possibilities to consider. Obviously, if you're looking at solutions to restore your smile, you've already decided that doing nothing is not an option. Missing teeth that are left untreated can result in serious dental problems as well as facial changes but knowing which method of treatment is right for you isn't always easy. But what if you could not only replace your smile but also restore your confidence with the help of a superior tooth replacement solution? If you want only the very best for your oral and overall health and wellbeing, spend some time learning more about dental implants and why they are so popular among patients today.
What Are Dental Implants?
Dental implants are small titanium posts that mimic the natural tooth structure. They are surgically placed and replicate the actual tooth root. Once fused to the jawbone and surrounding tissues, it will begin to stimulate the bone and prevent potential facial changes as well as reduce your risk for gum disease or other dental problems.
Why Are They So Popular?
There are many reasons why this unique solution is becoming vastly popular these days. Although they've been around for decades, advancements in dentistry and technology have allowed them to become more reliable and effective.
But why are people choosing dental implants over traditional methods of tooth replacement (i.e. fixed bridge, dentures)? Here's why:
They are a versatile treatment solution: Whether you need one, multiple, or all your teeth replaced, dental implants of all types can be the solution. There is no need to alter any healthy teeth (unlike a fixed bridge) because implants focus only on the area with the vacated socket(s)
They cannot decay: When having a dental implant placed, the actual titanium post cannot decay. If you have a fixed bridge, the natural teeth underneath the prosthetic can become decayed, resulting in possible cavities.
They improve aesthetics: The materials used to create a custom dental crown, implant bridge, or implant-retained dentures are designed to blend in with the rest of your smile. Lab technicians will fabricate the restoration based on you and your dentist's recommended color, size, and shape.
Dental implants are also great at improving functionality when speaking, chewing, and eating, and they are extremely easy to clean and maintain. As long as you stick to a regular oral hygiene routine, quit smoking, and make sure you are seeing your dentist every six months for a regular checkup and cleaning, you will find that your new smile can last decades or longer.
About the Practice
At Dent-Plant Dental Implant Center, our team of specialists stands by their work and commitment to improving smiles every day with dental implants. Considered to be one of the most superior forms of tooth replacement, these titanium posts make it possible to restore an individual's smile from the root up – a possibility unachievable with any other restorative treatment. Using only the best materials and advanced technology, our experts can help you to see a healthier, longer-lasting smile. If you or a loved one is interested in learning more about dental implants, visit our website or call (571) 352-9006.