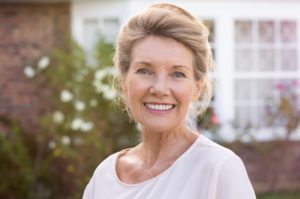 Have you ever considered how important your jawbone is to the functionality of your oral and facial structure? Not only does it allow you to open and close your mouth with ease, but it serves as a solid foundation for your teeth. When faced with vacated sockets in your mouth, you may begin to consider dental implants to replace your missing teeth; however, this can be a problem if you are suffering from substantial bone loss. So what can you do? A local dentist explains how advanced procedures can not only improve bone density but also restore your ability to receive dental implants.
Why is Bone so Important When it Comes to Dental Implants?
For your dental implants to be successful, you must have a strong, stable foundation to hold them up. Your teeth naturally sit within the bone, continuously stimulating it to prevent deterioration. When a tooth is missing, there is no longer anything (a root) to keep it from weakening. That is unless you replace it with a dental implant. Unfortunately, if the bone is not strong enough, the post (implant) will not fuse properly. It may even loosen and result in dental implant failure.
To prevent this from happening, your dentist should thoroughly examine your oral cavity and bone structure to ensure it is in good shape for this type of restorative treatment. If not, various procedures can be performed that will improve bone density and put you one step closer to dental implant placement.
What Procedures Can Improve Bone Density?
The most common procedures a dentist can use to create a stronger, sturdier jawbone are:
Bone graft: This procedure is necessary if a missing tooth is located on the bottom arch. Your dentist will add bone minerals to the weakened area and close it up to allow the material to fuse.
Sinus lift: Unlike a bone graft that is necessary for the lower arch, a sinus lift focuses on the upper arch. Your maxillary sinuses are located immediately above your upper back teeth. If one of these is missing, a small gap will be left behind. Your dentist will fill that area with bone minerals so that over the following few months, it will encourage additional bone growth.
Ridge expansion: If your jaw is not wide enough for implants, your dentist will perform this type of procedure. The ridge bone is divided and wedged apart to create additional space for a bone graft.
Distraction osteogenesis: If your jawbone needs to be taller, a dental professional can separate two pieces of bone and insert a titanium device that will be unscrewed over time. This will allow your jawbone to become "taller" and make it possible to eventually receive dental implants.
Just because you're told you don't qualify for implants at this time doesn't mean it's impossible. You can still achieve a full, complete smile, but it will require a few additional steps first. By allowing your dentist to take care of your bone loss the right way, you will be able to enjoy a healthier, longer-lasting smile when it's all said and done.
About the Practice
Dent-Plant Dental Implant Center's highly-skilled team of dental specialists can restore your smile using state-of-the-art technology and procedures. Experiencing bone loss? Bone grafts, sinus lifts, and other advanced treatments can help turn your dream of a complete smile into a reality. Providing permanent, affordable, and easy dental care, you can expect a pleasant and comfortable environment. If you are looking to rebuild your smile with dental implants, contact us via our website or by calling (571) 352-9006.