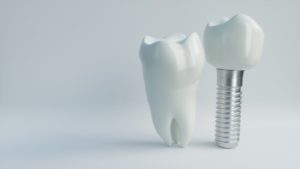 If you're asking, "What happens if my dental implant breaks," don't worry. This is a completely normal question to ask your dentist. Patients who have sought dental implants to replace their missing teeth have all wondered what should be done if something like a break or chip occurs. Fortunately, there are available solutions that can restore your broken tooth. Read on to learn what can cause your implant to break and what you and your dentist can do to save your smile.
What Can Cause an Implant to Break?
Before you begin to worry that your new, custom-made implant is going to break the moment you apply any pressure to it, it's important to know that the majority of individuals who have this type of tooth replacement procedure never experience any problems with their implants. In the rare case that a dental implant does break, it's likely that this happens because of one of the following reasons:
Too much pressure is applied before the implant fully fuses to the bone (osseointegration)
Excessive wear and tear to the abutment, the piece that connects the implant to your restoration
Broken screw within the abutment
The dental crown or implant-retained prosthetic becomes chipped, worn, or broken as a result of eating hard foods or chewing on ice
What Should You Do if This Happens?
Should you discover the actual implant (not the restoration) is broken, it's important that you get in to see your dentist as soon as possible. You may not realize there's a break until they are able to examine the tooth in question. You might be some discomfort, which can serve as a sign that something isn't right with your implant.
When you arrive for your appointment, your dentist will need to check the implant to see what the problem might be. If it is discovered that there is a break within the implant, it will need to be removed and replaced. If your jawbone isn't strong enough for a new replacement immediately, a bone graft can be performed to add bone minerals to the weakened areas of your jaw. This will require you to heal for a few months before having your implant replaced.
If the abutment is broken or the screw within it breaks, there will be no need to remove the actual implant, only the metal appliance (abutment).
Should your restoration break, you will need to have impressions taken of your mouth so that a new crown can be created for your smile, which your dentist will place once it is ready.
How Can You Prevent a Break?
There are a few things you can do to keep your dental implants from breaking, including:
During the recovery phase, do not put additional pressure on your implant. It needs to be able to properly fuse with your jawbone and surrounding tissues during this time.
Avoid eating hard, crunchy foods or using your teeth as tools.
Do not chew on ice.
Wear a nightguard if you are prone to grinding your teeth at night.
With proper care and maintenance, your dental implants can last decades or longer; however, should you experience a break either in your implant, abutment, or restoration, know that your dentist is a skilled professional who can take care of the problem and have you back to enjoying your beautiful new smile in no time at all.
About the Practice
At Dent-Plant Dental Implant Center, we know the importance of maintaining a beautiful smile. When a missing tooth in Tysons causes your smile to be incomplete, our skilled and experienced team of dental specialists can provide dental implants to improve and restore your oral health. We want to ensure your implants give you not only a smile you can be proud of but one that is fully restored and healthy for years to come. To learn more, contact us via our website or by calling (571) 352-9006.