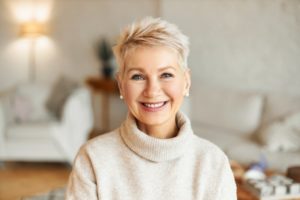 Dental implants in Tysons are more than just a cosmetic fix for people with missing teeth. In fact, if you are considering them for possible tooth replacement, you'll be happy to know they serve a much larger purpose. In order to better understand the real purpose behind these unique and revolutionary restorations, allow a local dentist to shed some light on the topic and why you should be even more excited about the idea of receiving treatment with dental implants.
What is the Real Purpose of Dental Implants?
It's natural to think that the vacated socket in your mouth is unsightly. Whether it is visible to others is beside the point. You can see it, and you want it gone. You might think that having dental implants will work to your benefit because not only are they stable but they blend in with the rest of your smile, allowing you to feel even more confident than before. But that's only part of their purpose…
The other, more important, aspect of dental implants is their ability to improve your dental health. Without something (the implant) continually stimulating your tooth root, you can face a host of facial and oral health problems, some of which include:
Bone and tooth loss
Facial sagging or "collapse"
Bone resorption
Bite misalignment
Increased risk of gum disease
Since implants are designed to mimic the structure of a natural tooth, the post will work to keep your jawbone strong once surgically placed. Not to mention that your natural teeth will remain in place and not shift out of alignment and cause chronic jaw pain or excessive wear and tear on your teeth.
How Else Can Your Smile Benefit from Implants?
If the explanation provided has you ready to get started on your path to a new and improved smile, you'll also be pleased to learn that your implant dentist in Tysons recommends these alternative restorations because they can also provide:
Increased functionality when eating, chewing, and speaking. You'll never have to worry about accidental slippage or a denture falling out. Instead, you can perform daily functions just as you would with a set of natural teeth.
Greater stability: Oftentimes, a fixed bridge, partial or full denture can become ill-fitting or even pop off. With dental implants, your smile stays in place. Whether you have one, multiple, or all your teeth replaced, you will have the luxury of knowing your prosthetics aren't going anywhere.
Minimal maintenance: Don't want to spend extra time cleaning a separate prosthetic? Don't worry! Dental implants only require you to maintain a good oral hygiene routine and continue seeing your dentist for regular checkups and cleanings twice a year.
If you find that the benefits offered with dental implants are enough for you to say "yes" to a consultation with your implant dentist in Tysons, go ahead and find out how you can get started!
About the Practice
Dent-Plant Dental Implant Center's highly-skilled team of dental specialists can restore your smile using state-of-the-art technology. Providing permanent, affordable, and easy dental care, you can expect a pleasant and comfortable environment. To learn more, contact us via our website or by calling (571) 352-9006.